Get Fast Gentle Hair Removal with Synerons Gentle Max Pro
Larger Spot Sizes and Patented Cooling Device Make Treatments Faster, Easier and More Comfortable
Brilliant Bodywork is now using Gentle Hair Removal™ technology, the GentleMax Pro laser powerfully, yet gently removes hair up to 4 times faster and with dramatically increased comfort due to its patented dynamic cooling system. Unlike many previous professional laser hair removal options, GentleMax Pro generates permanent outcomes and is safe and effective for all skin tones.
Permanent Hair Reduction
Dual Wavelength Laser
New improved combination of dual wavelength Alxandrite and Nd YAG lasers
How it works: Backed by a lifetime guarantee! Permanent hair reduction means that when a follicle is thermally destroyed it is not able to grow a hair again. Because there are many millions of follicles that can potentially grow on the body, it is not realistic to expect that every single follicle in the treatment area will be disabled.
What to expect: Over several treatments, with appropriate intervals, most of the follicles that cycle through hair growth will be affected by the procedure and will be critically injured making them permanently disabled. Over treatment sessions there will be less hair growth. If/when hair does grow back between each of the treatments, there will be less of it, and it will be finer, lighter, and grow slower.
Results appear quickly: On average, each laser hair reduction treatment that you undergo will eliminate about 40% to 80% of the hair follicles permanently. Studies show that by about 6 treatments, most clients see 90% to 99% hair reduction. Factors that effect the laser therapy process, and could lead to less aggressive results include safety, tolerance, skin type, hair color, and hair texture. Read more about results, and what to expect, in our Laser Reduction Guarantee.
Dynamic Cooling for Greater Comfort
Only Gentle Systems feature a patented Dynamic Cooling Device (DCD™), which minimizes discomfort by releasing a quick burst of liquid cryogen before and after each laser pulse. The cryogen rapidly evaporates, cooling the outer layers of the skin and making the treatment significantly more comfortable for patients by removing the snapping and burning generally associated with laser hair removal. During the treatment, a hand piece delivers a laser pulse into the targeted areas, and a controlled amount of therapeutic heat that safely and effectively damages the hair follicles.
Up To 4 Times Faster
GentleMax Pro has redefined permanent hair removal GentleMax Pro has the industry's largest hand-piece spot size of 24mm, allowing us to drastically reduce treatment time. Patients love the quicker treatments with fewer visits.
More Effective with Darker Skin Tones
This laser is also more effective at treating all skin types, especially hair removal for people with darker skin tones.
Gentle Max Pro also gives Brilliant Bodywork the ability to provide state of the art treatment for beard bumps, facial spider veins, pigmented lesions and something surprisingly new, nail fungus.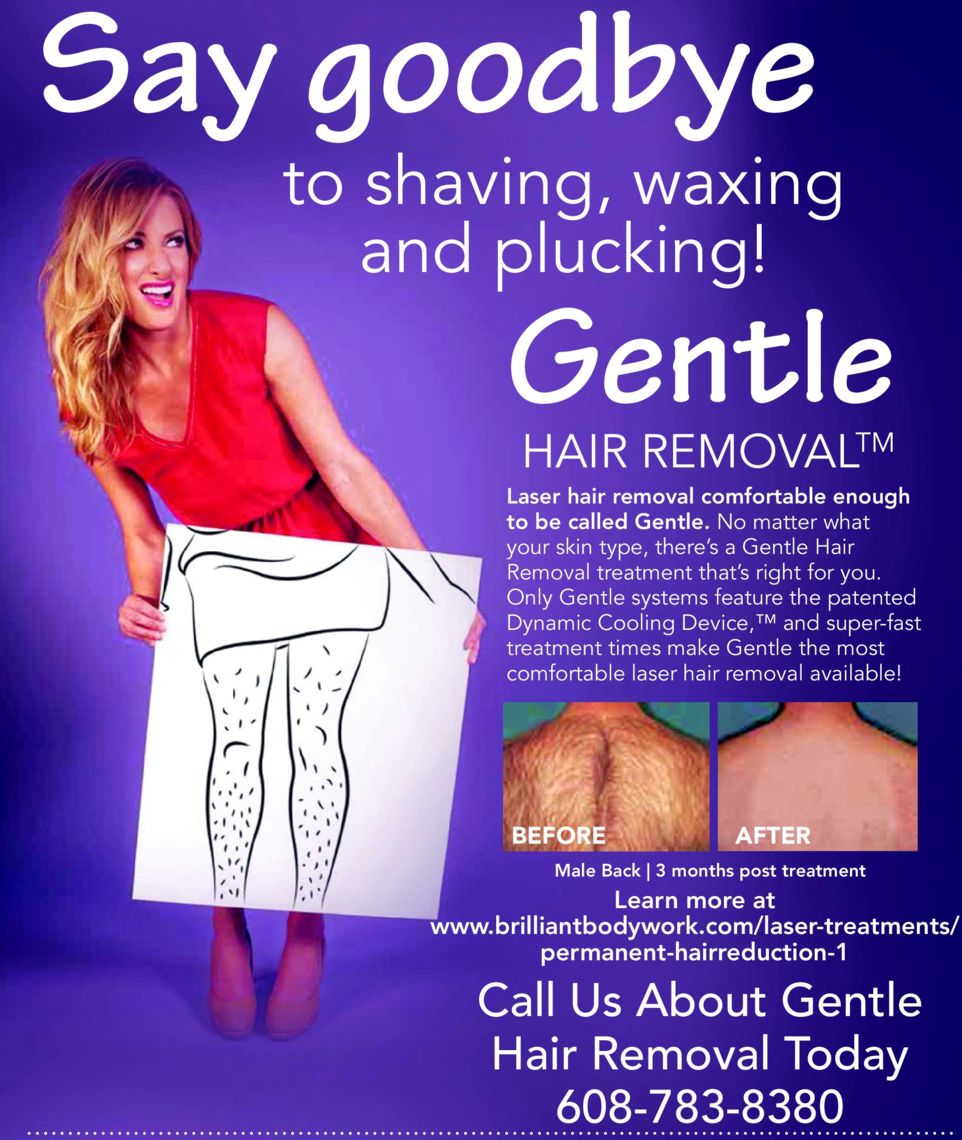 Hair Reduction Treatment Areas
From Head to Toe
Abs
Beard
Belly Line
Bikini
Chest
Chin
Female Brazilian
Fingers & Hands
Forearms
Full Back
Full Legs
Half Back
Half Legs
Lip
Chin
Nape of Neck
Shoulders
Sideburns
Toes & Feet
Underarms
Unibrow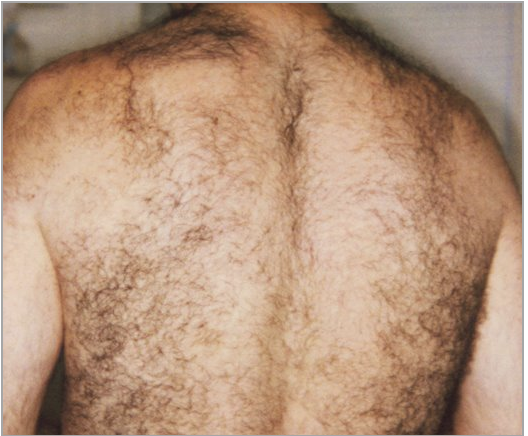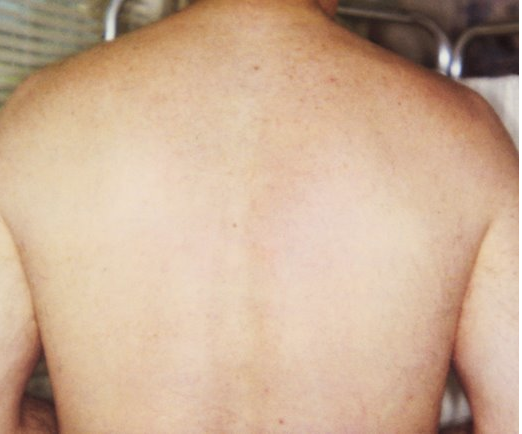 Laser Treatment Pricing, Payment Plans, & Price Match Guarantee
Brilliant Bodywork strives to offer the best treatments with the best trained professionals in the area. We do offer laser treatment packages for all of our laser services as well as individual treatments. Brilliant Bodywork also guarantees to match or beat any competitors package pricing. Payment plans are available so be sure to ask. To set up a FREE consultation, pricing questions, or to create a laser treatment package especially for you, please call us at 608-783-8380, or send us an email using the form below.
Brilliant Bodywork Laser Hair Reduction Guarantee
The Brilliant Bodywork Laser Hair Reduction Packages consist of a total of 9 treatments with an option to purchase additional single treatments for the same body area at half the per treatment price at any time in the future. You may take advantage of the half price guarantee anytime during your lifetime.
The first six are each done no less than six weeks apart. The subsequent treatments, should you feel you need them, will be offered to you, at no additional cost, at 6 week intervals for up to one year after your sixth treatment. Now, will you need all 9 treatments? Not likely. Might you need 7 or 8 treatments to get the results you are really looking for? Quite possibly, depending on your skin type. And we do have a few clients who have needed 10 or 11 treatments, especially when treating finer hair, or if they have darker skin.
At Brilliant Bodywork, if you completed your first 6 treatments and feel you need an additional treatment, you simply call us and let us know. We'll take your word for it! We'll schedule you with the same priority as all our other appointments, and you'll be treated with the same care and respect due every client at Brilliant Bodywork. Again, each treatment is going to further reduce the unwanted hair, so these subsequent treatments will continue to provide further permanent hair reduction.
No laser hair reduction clinic can guarantee exactly what percentage of hair reduction any client will see by their sixth treatment. But at Brilliant Bodywork, we strive for 100% customer satisfaction. And one of the keys to our success is our Laser Hair Reduction Guarantee.